What are the benefits of Vitamin C for the skin?

Vitamin C is one of the most important components in the human body. You can get vitamin C from food, but that's not the only way it can benefit skin health, it's widely used in skin care products. Scientific research has found that topical vitamin C is more effective than dietary vitamin C for healthy skin. It is also a skin care ingredient recommended by many dermatologists.


What is Vitamin C ?
Vitamin C is an antioxidant and an important ingredient in repairing and maintaining skin health, with several impressive benefits, including moisturizing dry skin, anti-aging, brightening, and repairing sun damage. Vitamin C generally does not cause the serious side effects associated with other anti-aging ingredients, such as irritation and peeling. For those concerned about skin aging and uneven skin tone, vitamin C is the perfect solution.
What are the benefits of Vitamin C for the skin?
Vitamin C is clinically proven to have a wide range of clinical applications. According to
The Journal of Clinical and Aesthetic Dermatology
,applying it daily can also boost collagen production. This powerful nutrient provides many benefits to the skin, including:
Maintain and repair damaged skin
Diminish the appearance of fine lines and wrinkles
Brighten up complexion
Even skin tone
Reduce the appearance of dark spots
Prevent premature aging
Protect from sun damage. (Not as a substitute for SPF sunscreen) Increase sun protection if used with SPF.
Vitamin C Skincare Products and Recommendations

HD VITAMIN C SERUM
HD Vitamin C Serum combines the highest quality Vitamin C, Niacinamide and Hyaluronic Acid, helps diminish the appearance of dark spots and brighten your skin. This advanced formula contains a powerful antioxidant that helps neutralize the free radicals that cause damage to your skin and fades sun spots, refines skin texture.

HD VITAMIN C BRIGHTENING CREAM
HD Vitamin C brightening cream is formulated for reducing dark spots and increasing luminosity, giving an amazing glow and flawless looking skin. Prevents the appearance of lines and wrinkles, while firming the skin to reveal a radiant looking complexion.

HD VITAMIN C BIO-CELLULOSE MASK
The HD Vitamin C Bio-Cellulose Mask is formed of a specialised 20-Nanometer ultra fine fiber that fits perfectly on the skin and allowing serum to penetrate deeply. The 3D network structure that enables itself to retain a high volume of serum and enhances the skin's comprehensive moisturizing and repair effect, further calms irritation and leaves a dedicate watery bright skin.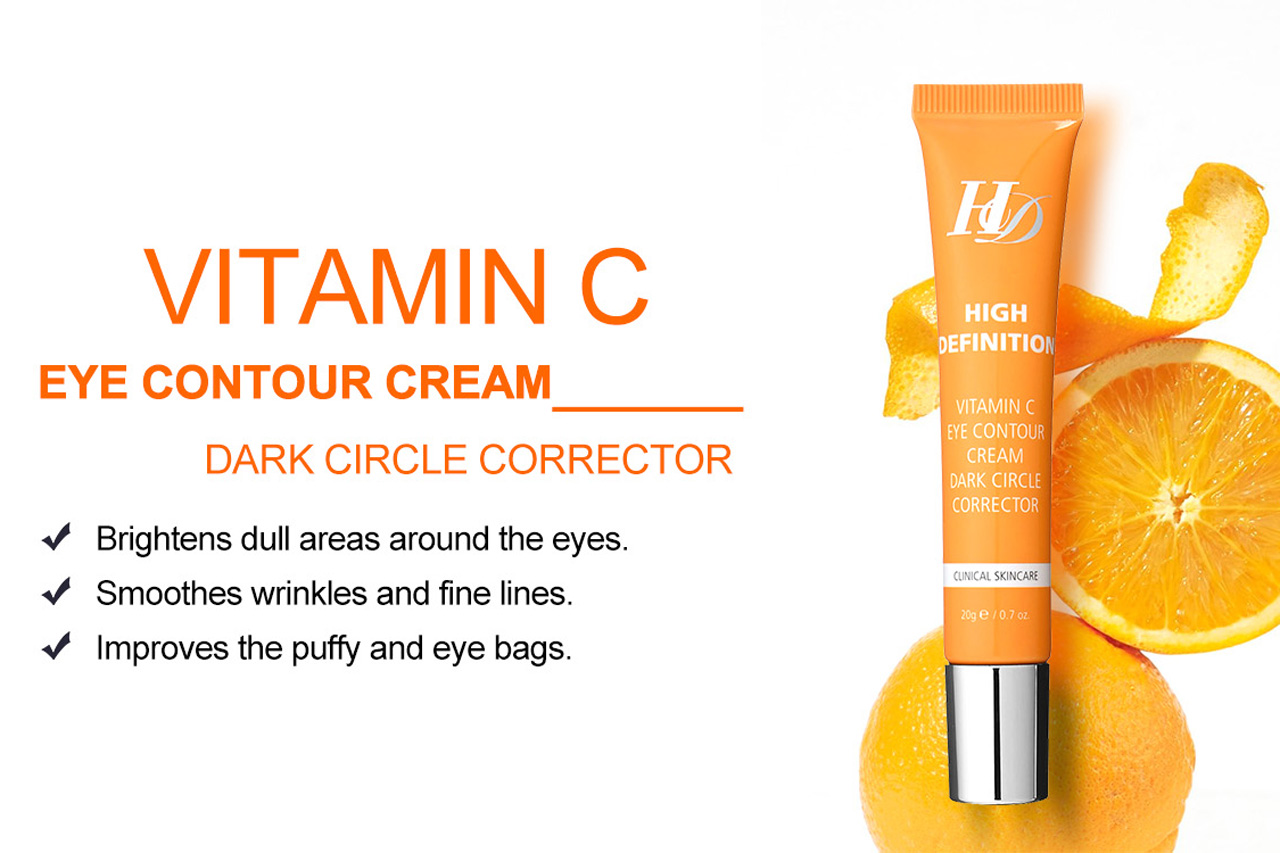 HD VITAMIN C EYE CONTOUR CREAM
HD Vitamin C Eye Cream features an advanced gel formula that deeply hydrates, brightens and smoothes fine lines for a more radiant eye area. Hyaluronic acid, niacinamide, and arbutin also help reduce dark circles and puffiness.
How to order Vitamin C Skincare products ?
If you have a demand of purchasing wholesale skincare and makeup products , please don't hesitate and feel free to
contact us
!
Why choose Flyup Cosmetics?
Flyup is a beauty brand specializing in wholesale medical-grade makeup and skincare products to pharmacies, clinics and salons around the world. Our products recommended by dermatologists and professionals.
"Quality is our culture"Our main ingredients are imported from FRANCE, GERMANY and SWISS. We also have the ISO22716 GMP certificated.
"Time is gold"for you and for us , we can provide quality services and free marketing materials.
"Low MOQ"We have ready stock and provide first trial order with no minimum quantity.
We are looking for agents and distributors. Whether you are a small business starting up, or a company looking for a new supplier.
Contact us
today to get started!